Continued collaboration with tershine
Petit Le Mans 2020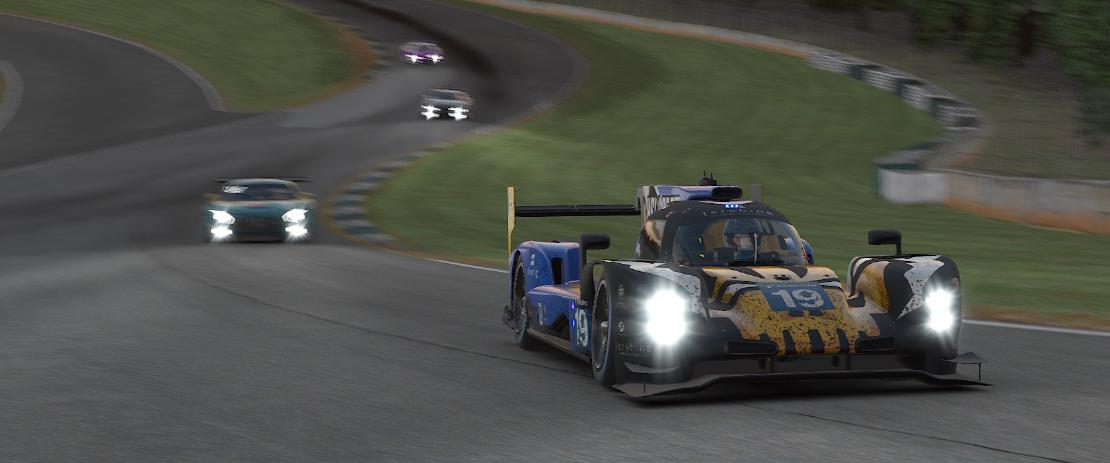 Even though the autumn is filled with league racing, we still take time to compete in the iRacing special events. Last weekend, it was the 10 hour race of Petit Le Mans, which in spite of its name is run on the Road Atlanta track in the US. Its real-life counterpart is run under the Weathertech SportsCar Championship organized by IMSA, and the iRacing version also uses the cars normally seen in the IMSA Sportscar Championship on iRacing. That means, except for the GT3 and GTE classes, also the brand new LMP2 car, which was the weapon of choice for Hellracers this time around.
Hampus, Marcus, Stellan and Niklas divided themselves into two cars to maximize the driving time per driver and headed out onto the twisty and tight track where traffic management is key. A lap in the LMP2 car takes only around 1 minute and 10 seconds, meaning that over 10 hours you get to see the same curve quite a few times. It also means that there is a lot of traffic since so many cars are driving on such a short track at the same time.
After the first nail biting hours where, to be honest, it is mainly about keeping the car in one piece and avoiding mistakes, both cars saw themselves in P2 in their respective split. This, being a massively popular event with roughly 1300 teams competing, means that the field of cars is divided into many separate races simultaneously. Our two cars ended up in split 5 and 6 out of a total of roughly 30.
Just some time after passing the half-time mark, a horrendous rejoin by an Audi GT3 saw our split 5 car being forced into the barrier at high speed, damaging the car enough to force the team to retire. The car in split 6 powered on and even though it was not much to hope when it came to position changes unless something critical happened, the car was going for a solid P2 finish. With about an hour to go, the leading car put themselves in a hairy situation and spun on the main straight. However, with some luck and some skill the car didn't catch any real damage and the leaders ended up with a comfortable win in the end. Hampus and Marcus had to settle for yet another second place, a finishing position we are getting a bit too comfortable with.
Being the first endurance race with the new LMP2 car, the most important take-away was that we have several drivers with a really good pace in the car. That gives us high hopes of an endurance season with some better results than a P2 finish!
Preparing for a new season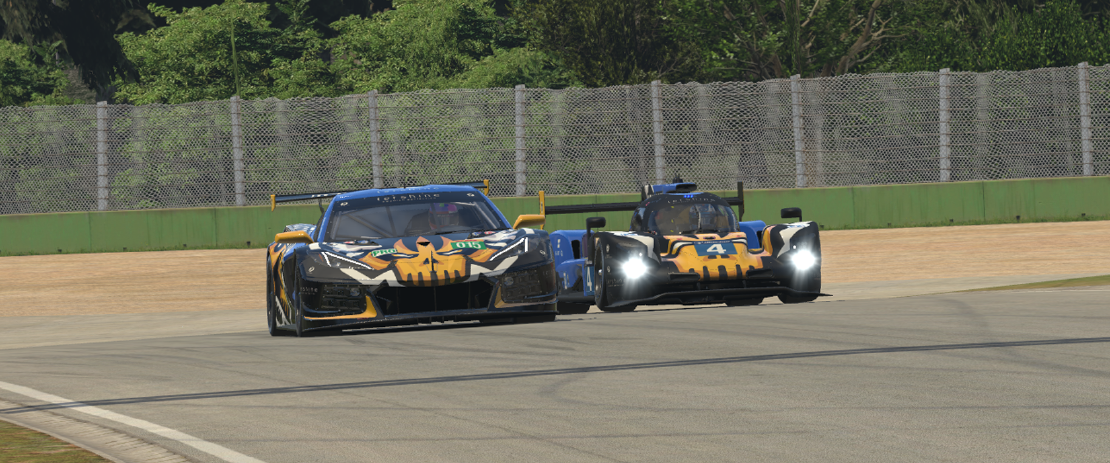 The big season 4 update has just been released on iRacing and everyone is currently busy with trying out the many new features, cars and tracks that were included. For many in our team, maybe the most important update was the new Dallara P217, an LMP2 car that will be used in several official series as well as endurance leagues.
One of these endurance leagues is the IVRA Endurance league, which last year was called DGFX Endurance and where we placed 2nd place in both the LMP1 prototype class as well as the GTE class. The organization behind the league has now renamed the organization and the leagues and we are looking forward to the new season, starting with a 12 hour race at Spa-Francorchamps in October. Before that, we will try to qualify a third car to the league, while we have a GTE car and an LMP2 car already qualified.
Speaking about qualification, the last couple of weeks several leagues have had their pre-qualifying days, where many teams fight about the chance to race in the league in the upcoming season. We tried out to qualify a GTE car for the Sports Car Open league, competing against some of the quickest GTE teams on the service. Unfortunately, we only managed a 20th place in a field of 40 cars, where only the quickest 11 teams were invited to the league. The result is not so bad considering who we competed against, but it is still a disappointment not to qualify.
Some brighter news is that only one week later, it was time for pre-qualifying again. This time, to the 24H SERIES ESPORTS (formerly known as NEO endurance) where we put a GT4 Cayman to the test. The biggest competition in this league is arguably in the GT3 class, but the GT4 class has some serious competitors in the very high iRating range. After some late evenings getting to know the in and outs of the Donington GP track, we managed a fifth quickest time on pre-qualifying day, qualifying us to compete in the full season. We are very excited about showing what we can do in this league!
Besides these big endurance leagues, team members are also participating in other competitions, such as the Apex Racing Leagues for TCR, GT4 and GTE respectively. Some really good results also there, against some top drivers. More on that in a later update!
iRacing Endurance Series Race 3 - Barcelona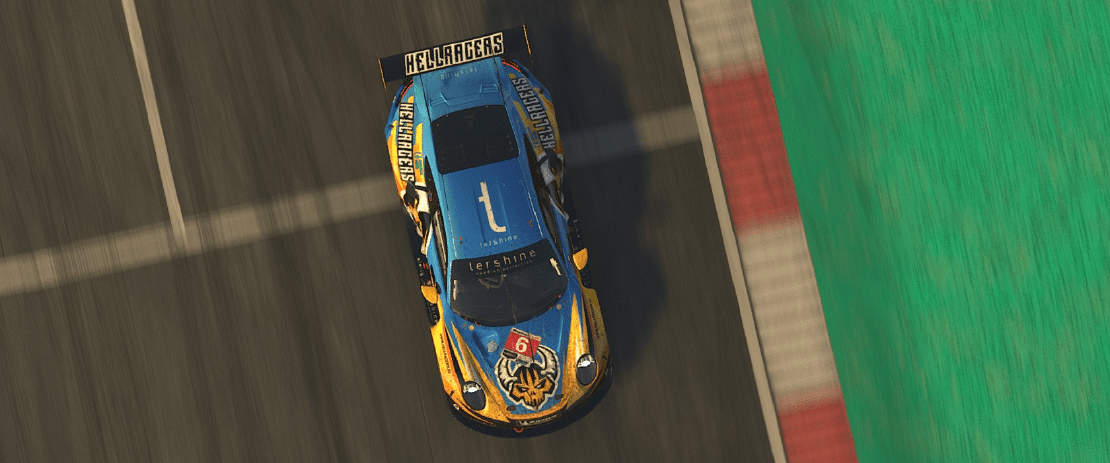 Time to follow up the winning performance at Silverstone with another race in the iRacing Endurance Series, the third out of four races. Once again, the trusty Porsche 911 RSR was the weapon of choice and once again, we were to battle it out over 12 hours with three other car classes. Same old, same old.
With the summer weather finally reaching Sweden, only Wilhelm, Magnus and Marcus were representing the team in one car while the rest of the team were soaking up the sun outside, far from their rigs. The drivers chose to close the blinds and turn up the AC instead and prepare for a few hot stints.
This time, partly because our iRating is slowly creeping up but probably mainly because the series is not quite as popular in the GTE class, we ended up in top split! This means that we were to fight against the best GTE drivers in this event, something that triggered us to perform and bring home a good finish. We started off well, putting the car on pole, with just a few hundreds of a second separating the top four cars. After just a few laps, P2 overtook us and as it would turn out, never gave us the place back. They were just too fast.
The developers at iRacing are constantly updating the simulation software, and one of the biggest topics in the community is the tire model. Since the tire in the end is the only thing connecting the car to the road, the feeling and behavior of the tire in a racing simulator is one of the most important things in how the simulation is perceived by a driver. iRacing has historically struggled compared to the competitors in producing a tire model giving both a good feel when driving while at the same time having a realistic behavior when it comes to tire temperature, dropoff, wear, etc. Well, it isn't perfect still, but this race gave us a good feeling that the current tire model on the GTE cars is at least the best so far!
Not only is the feeling of the car improved compared to previous tire models, but the wear and dropoff of the tire provided a much needed boost to how different strategies can be used in the race and opened up for different strategies in endurance racing (i.e. when to change tires, how many tires to change, etc). A very positive development to what used to be a pretty thin strategy portfolio, where only one strategy made sense based on the tire development over time when it comes to wear and dropoff.
Soon enough, iRacing will add the possibility to limit the amount of tires available for each race on the road side (it has already been introduced in the oval racing side), which will even further increase the strategy part of endurance racing, something we really look forward to!
Anyway, this was all a long-winded way of saying that we got to see a few different strategies being used in the race due to the latest tire model updates, making it more exciting and unpredictable than usual when it comes to the longer endurance races. We switched places with a car running a different strategy and were either P2 or P3 the bigger part of the race, until the pure pace of the other car put us firmly in P3 with about 3 hours to go. With a fairly comfortable cushion to P4, even though we had a few scares along the way, the last three hours were - to be fair - not that exciting and all about bringing the car home in one piece.
For us, P3 in top split is still a great result, especially when the car didn't have as much as a scratch on it when crossing the finish line. Well, we might have to give a shout-out to iRacing's netcode for that, to be fair we had contact with other cars but nothing major and nothing big enough to scratch our beautiful paint work.
Since this is an official iRacing series, championship points are counted both towards individuals as well as teams. With only one race to go in this series, we top the overall championship in the GTE class both individually and as a team and now the goal is to bring home those first places!
Philip takes second place in the Apex Racing Academy GT4 VRS Super Series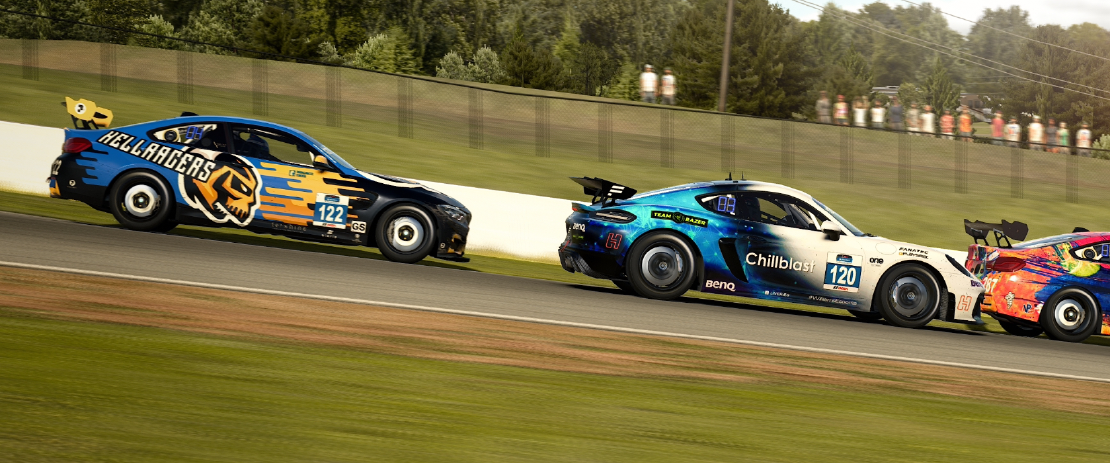 Staying true to the Hellracers long tradition of second places, Philip settled with an overall second place in the Apex GT4 series this summer. It is a league using the two GT4 cars (Porsche 718 Cayman and BMW M4) on the iRacing service, where the setups are fixed and provided by the Apex Racing Academy giving all competitors an even playing field. That makes Philip's effort even more impressive - in all the races, he finished as worst in fifth place with a second place in the last race of the season as his best finish.
The league also used reversed starting order in the feature race for P1 to P10 in the first heats, producing some really exciting racing in the feature race. Followers of the excellent broadcast provided by Apex have been able to see some nail-biting action with a lot of close racing and overtaking throughout the race. We have been following the league closely and we are certain that more than one Hellracer will attend the next time! Thanks to Apex for a fun season!
Welcome to our new member Rickard Karlsson!
Even though fairly new to the service, Rickard has shown great pace and the right mindset so we are really happy that he decided to join Hellracers! He's another great GT driver who joins us just in time for the upcoming season of the big endurance leagues.
iRacing Endurance Series Race 2 - Silverstone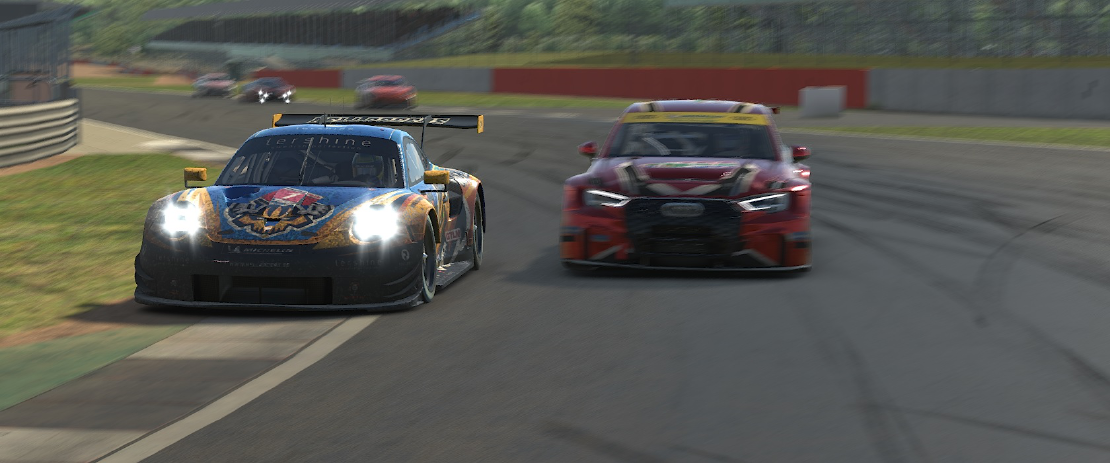 After a disastrous first race in this series, we went into the second race with lowered expectations. This time, 12 hours at Silverstone was the plan and once again we started in the GTE class with our Porsche 911 RSR. However, since summer means that other important things except sim racing occupy people's minds we only had enough team members available to run one car.
Once again we ended up in third split, mostly due to the very small number of GTE cars in each split. Unfortunately, with four classes the iRacing match-making system decided to only put 6-8 GTE cars in each of the top splits (8 cars in our split) while the other three classes (GT3, GT4 and TCR) made up for the rest of the in total 55 cars. The GTE field in our split was quite strong but it is inevitable that over 12 hours a few cars retire which left us with few cars to compete against.
Anyway, on to the race. We didn't find quite the pace in qualifying that we wanted but ended up with a lucky second place anyway, just a few hundreds of a second ahead of third. The start was uneventful and we could find the rhythm quite quickly. It became apparent some time into the first stint that there were three main competitors running away from the rest, and our car was one of them. It's quite something when there is only a few seconds between contending cars even after hours of racing, and it felt like this could be a really exciting race. We switched places among the top three a few times but about one third into the race, the other two cars had a moment and collided, giving us the lead.
As it would turn out, we didn't give away the lead after that, except for the pit stops when we were on slightly different strategies. Our car crossed the finish line only 15 seconds before second place, but with the rest of the GTE field being lapped by us one or more laps. Finally an endurance race victory after some less fortunate races!
One Year of Hellracers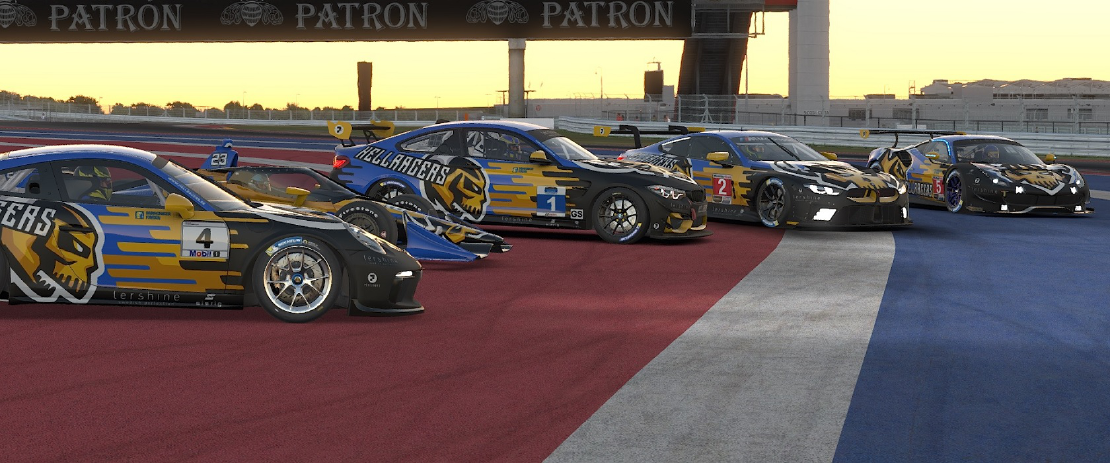 One year ago, the team Hellracers officially started after a few weeks of recruiting and preparation. We managed to bring some of the top sim-racing talent in Sweden together into one team and we aimed to drive together, improve together and have some fun together. Even though it is important to set up goals and achieve things, it's not worth as much if we don't have fun on the way there. We strongly believe that expanding a team too fast will create subgroups and the overall team feeling might get lost, which is why we have expanded quite slowly and found drivers who we think fit the team both with their skill level but also that will be part of the group and strengthen the team feeling.
So what have we done during this last year? We have found a great sponsor in Tershine, a Swedish company that has everything you need to keep your (IRL) car in good shape. We have raced in official races, although the amount of races per week is very varied within the team and typically on the lower side. Endurance racing and leagues have mostly been the name of the game and we have participated and got good results in a number of leagues, such as DGFX Endurance (2nd place in both GTE class and LMP1 class), DGFX Clubsport (2nd place in Sport class) as well as the Swedish iRacing League (1st place in both GTE and GT3 class) and the Scandinavian Club League (1st place). We qualified three cars to the Race of Vikings, an event where the Nordic countries competed against each other, and our three cars all scored points to secure a second place for Team Sweden.
The results and our vibrant paint schemes have definitely made others start to recognize the Hellracers and it is awesome to see that the name is starting to spread. We have made a point in not only being recognized for the results but that we are respectful and fair on the track, and we believe that it pays off in the long run. Rather get second place and keep the respect of the competitors than going all in and destroying other peoples races to get that first spot. In real life racing, things might be different, but we are doing this to have fun above everything else.
Our planned team get-together during the DTM race at the Swedish Anderstorp track this year was unfortunately cancelled due to the ongoing pandemic so our first time meeting all in person will have to be postponed. However, doing all our racing online means that a few of us meet almost every night on Discord and train a few laps together, race together, talk beer or motorsport together or just hang out and plan the next upgrade to the rig. It's a great balance of fun and serious racing, and we hope to continue in that spirit moving forward.
Soon, the qualifications start for this upcoming season with leagues such as SCO, IVRA (previously DGFX), NEO Endurance, etc. We also have ongoing leagues, for example iRacing Endurance Series and BMW 120, where we usually get one or two cars on the grid. So we intend to keep on racing, keep on improving and above all - keep having fun!
SCO - 6 hours of the Glen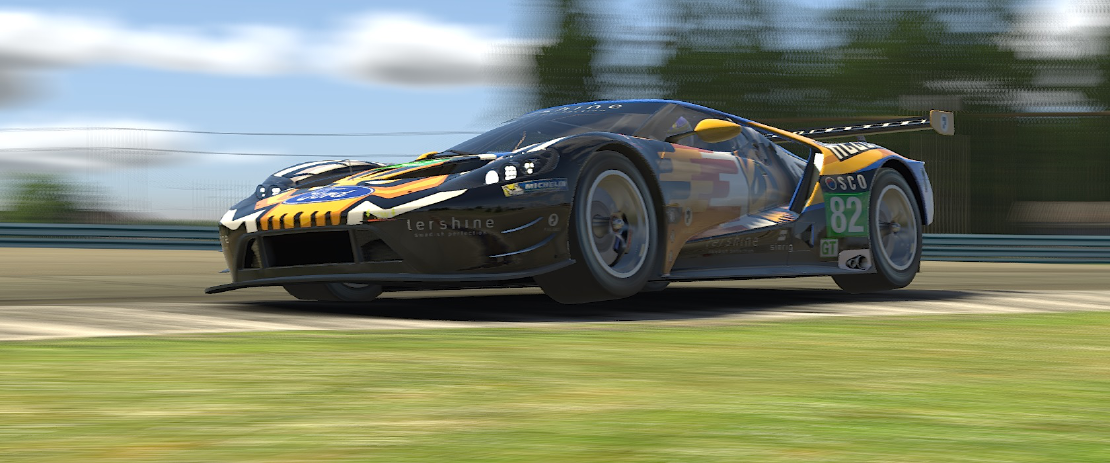 Since we don't have any ongoing leagues or too many commitments, when SCO invited teams to their 6 hours of the Glen it sounded like a great event to get some serious racing. We joined with two GTE cars and since the Ford GT GTE at the moment is hard to beat in endurance, we chose it as our car for the event.
SCO is one of the most competitive leagues on iRacing and even though this was a one-off event, it was a high strength of field in both classes (LMP2 and GTE). Watkins Glen is also typically a track which most drivers know well, and the qualification round showed that it was indeed true. One tenth of a second in qualifying meant 3-4 spots up or down in the starting position, that is how tight it was. We managed to squeeze both cars into the top 15, which was ok in this sort of playing field.
At the end of the first stint, it became clear that the tyres were really worn out and both cars spun out, dropping back in the field. The car driven by Wilhelm (and Philip, although he never got the chance to drive…) was taken out by an unfortunate overtaking attempt by another GTE and Wilhelm had to retire just over an hour into the event. However, the car driven by Niklas and Stellan continued on, and they made their way up in the field due to a steady good pace while a lot of other cars had issues with staying on the track in one piece.
End result after 6 hours of racing was an honoring P10, which we are quite proud of given the competitors. It wasn't the best of our races, making the tenth place even more impressive, and we got another receipt that our GTE drivers are a force to be reckoned with.
iRacing Endurance Series Race 1 - Suzuka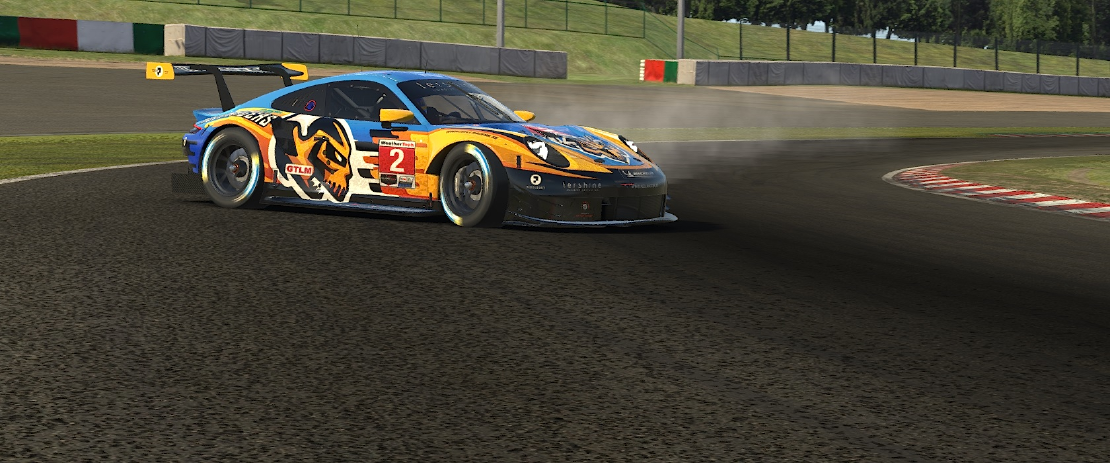 Time for a new series! iRacing has introduced a new endurance series, spanning over half a year with four races at some of the biggest circuits on iRacing. Each race consists of 12 hours of multiclass battle where an entirely new combination of cars are being put together on the track at the same time. While the GTE and the GT3 class often find themselves together on the same track, they have never in an official event had the company of the Audi TCR car and the Porsche Cayman GT4 car at the same time. This combination turned out to be a lot of fun, but together with the already quite challenging Suzuka track the hefty amount of traffic became a surprisingly hard task.
We had two GTE cars starting this race, both Porsche 911 RSR which is a great choice for the many sweeping curves of Suzuka. Although we had quite a bit of training on both the car and the track, it's always a different scenario when it comes to race day and all the cars that let you through nice and easy on the practice sessions suddenly have something to race for and won't let any class pass quite as easily.
With one car starting on pole and getting a few seconds up after the first laps, we had a good feeling from the start. But things were about to change…
This turned out to be probably the worst overall race for Hellracers so far, with too many spins to talk about and collisions with other cars and mistakes from almost all drivers over the 12 hours. That one of our cars managed to secure a third position is quite remarkable, and can probably at least partially be explained by the fact that our competitors struggled with this combination as well.
With bruised egos and bruised cars (both cars had the iRacing-typical bent carbon fibre wing) we still managed to bring the cars to the finish line and that felt like an achievement by itself. We intend to continue in this series over all four races, but next time (Silverstone in June) we hope to be able to not only bring the cars to the finish line but also do it in style.